Floor Tiles Recommended For Commercial Use
Views:15 Author:Site Editor Publish Time: 2020-12-14 Origin:Site
Commercial buildings provide space for people to conduct business activities. Of course, it is hard to avoid doubling traffic on holidays. More customers mean more business. Therefore, the quality standards for commercial flooring are even higher. What are the features should commercial floor tiles have to meet various needs? Let's start with the following aspects.
Security of customers
Security is the primary factor that needs to consider first. Non-slip flooring can reduce the risk of tripping and injury. It is perfect for the areas that are most exposed to moisture, such as restrooms, mall entrances, and exits.
Polished tiles and glazed tiles usually have low slip resistance for their smooth surfaces. But some people believe that glazed tiles with a textured surface can resist slip. But that may not be true. Even though it doesn't look glossy, it will become slippery when humid.
However, it's unreasonable to judge the safety of tiles only by appearance. The specification is what you really need to focus on. The coefficient of friction (COF) is a common way to appraise the anti-slip capability of floor tiles. COF equal to or greater than 0.60 stands for excellent slip-resistance. It is adequate to prevent slipping when COF ranges from 0.50 to 0.59. And be careful if the COF is less than 0.50. Please try not to use coatings to improve the COF. It's not a long-term solution. Discoloration, peeling, blistering all are unpredictable, making maintenance more difficult.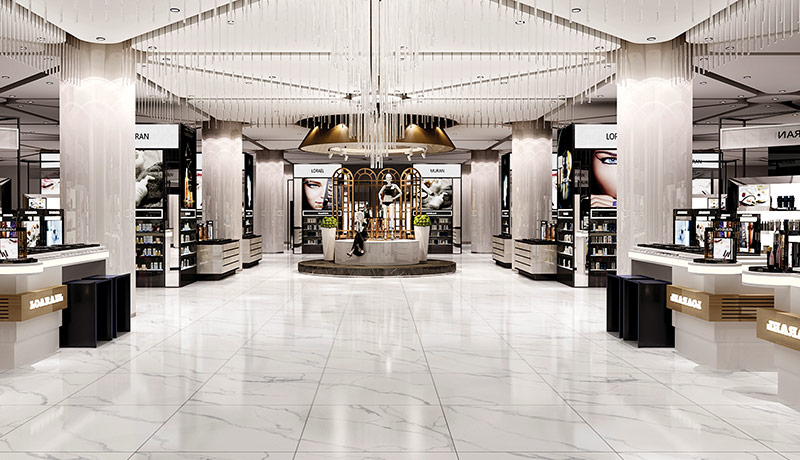 Marble Look Tile For Shopping Mall
Convenience of clean
Regarding public places, high foot traffic brings sales as well as ground pollution. There's no doubt that larger areas require more frequent cleaning, which is a heavy workload. As a result, easy-to-clean flooring with superior stain resistance is a must for flooring in commercial buildings. It can effectively withstand paint, cigarette ash, and other stains. Provide great convenience and save on labor costs.
Furthermore, the joint between tiles is easy to trap dirt and grime. So the fewer seams in the tile flooring, the easier it is to keep tidy. That's why you can see so many large-format floor tiles in different shopping centers. Also, it benefits for speed up the installation and maintain an integrated look with walls.
Feeling of use
The first is about the colors of the tile. Refreshing light colors generate a sense of extension. The interior space will become spacious rather than cramped. Similarly, colored flooring can be dizzying and detract from the customer's shopping experience. This is not a good choice for a commercial building unless it has a specific thematic style such as the Mediterranean, medieval, etc.
Then comes to sound insulation. To a certain extent, noise belongs to environmental pollution. It refers to any sounds that disturb people to rest, learn, and work. Therefore, ceramic tiles with great soundproof are ideal for offices, coffee shops, and other places that need quiet. Give people a peaceful atmosphere to concentrate on their work and raise efficiency.
Last but not least, the comfort level. Not all flooring for commercial use needs to be hard. It is advisable to lay tiles according to the area function. For example, the wood floor is better than tile for a leisure area in a shopping mall. Wood flooring is softer and not as cold as tile, which introduces ease and warmness to lounges.
Conclusion
So far, I guess you've got the key elements mentioned above. If you are still undecided or need more help, why not contact us today? We are glad to help you with any problems you may have. And our professional team can customize a solution and adapt it based on your needs. WIFi is looking forward to your message!