What are the Characteristics of the Ceramic Tile in the Park?
Views:48 Author:Site Editor Publish Time: 2020-10-28 Origin:Site
As we are wandering in the park, we always feel at ease. But what you may not have noticed is that it is not just because of the green plants, but the facilities there. For a park, the beautification effect of ceramic tile is no less than the greenery. Only the two integrate perfectly can create a satisfying landscape.

The common ceramic tiles used in parks
Absorbent tiles and permeable pavers are the two most frequently used ceramic tiles in parks. You can find them in almost every park. They possess both aesthetic as well as durability. And what are the features making them suitable for parks?
The Characteristics of park tiles
Lively: The tile for the park is mostly bright with no discoloration and fading in the sun for a long time. Therefore, it can add a vibrant feeling to the parks.
Fire-resistant: Tile for parks is incombustible. Even in direct contact with cigarettes or matches, it will not cause surface damages. Thus, it can protect the park far away from the fire.
Small: Park tile is usually in a small format, giving high flexibility for changing. In addition, it helps decline replacement costs and facilitates the laying and repairing of underground piping.
Non-slip: Unglazed park tile with a rough surface has an outstanding ability to resist slip and skid. It can prevent accidents and ensure the safety of passers-by, especially the elderly and children.
Hard-wearing: Generally, park tile is wear-resistance with a thickness of 30-60mm. It is hard to rupture, making it ideal for high-traffic areas in the park, such as bike trails, parking lots, playgrounds, and leisure squares.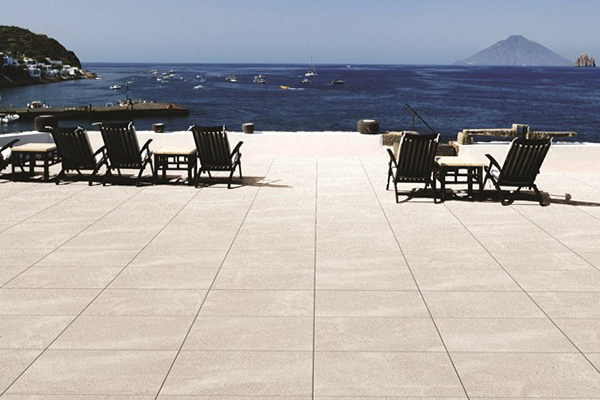 Sandstone Floor Tiles For Outdoor
Hygeian: Tile in the park has superior stain resistance. Residue or liquid will not accumulate, which is easy to take care of. As a result, the park tile is beneficial for keeping the environment clean and healthy.
Stable: Tile in the park has excellent heat and frost resistance. It can adapt to all weather conditions and not prone to physical changes. Also, tile is highly inactive with acids and bases, so it can hardly get erosion.
Versatile: Ceramic tile has various laying methods. It can collage colorful and different patterns to meet varied decorative needs. Without doubt, the park tile makes park paths, pavements, jogging tracks, walkways not monotony anymore.
Water absorbing: Park tile has great water absorption of 11-12% for being small pores. It can absorb and drain the water into the land. Besides, with an underground drainage system, park tile can dry the ground out faster. It also keeps the soil moist and helps vegetation grow.
Environment friendly: Park tile is a new type of green environmental materials. The main raw materials are cement, sand, slag, and fly ash. It is made by high-pressure forming without high-temperature firing. The entire manufacturing process reduces waste and pollution emissions.
Conclusion
Nowadays, many people like to walk, picnic or jog in the park. Parks have become an inseparable part of our lives. Therefore, the choice of park tiles should meet the real needs of the public. And it also needs to maintain a particular style, making it a unique scenery in the city.